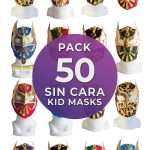 Wholesale SIN CARA Economic Kids pack of 50 lucha libre masks
$150.00
SIN CARA
Wholesale SIN CARA Economic Kids pack of 50 lucha libre masks
Can fit from 5-13 years old aprox
We will offer discounts from 5% up to 40% depending on quantity.
If you are interested in an exclusive model of masks, please contact us to arrange details and specification.
Please Email: sales@masksports.com with your order
Description
SIN CARA
Wholesale SIN CARA Economic Kids pack of 50 lucha libre masks
Pack of 10 assorted or specific Economic Kid Masks.
Can fit from 5-13 years old aprox
All masks are brand new, never been used and 100% made in Mexico by the most prominent mask makers. Materials and stitching are high quality. Size: Kid (lace up design for custom fit). Lucha Libre masks are excellent for sporting events, costume parties, wedding favors, children's parties, halloween costumes and overall wholesome FUN!